[Style & Cover Story] Fashion Icon, G-Dragon :: Red pants,
Green Suit.. Everything becomes a trend on him.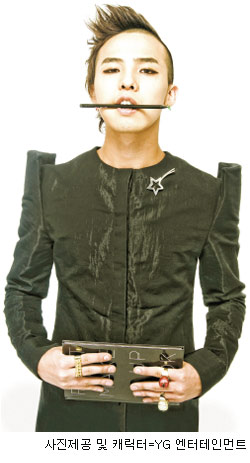 It is difficult to describe G-Dragon (21, Kwon Ji-Yong) in a word. He is the leader of an idol-group from YG entertainment, and known as 'perfectionist Ji-Yong' or 'Jingyo' among the fans. He is good at not only lyric-making but also in composition, and is also a fashionista who makes everything from scarves from sunglasses he put on as major trends. He can pull off the extremes of lovely bang hair to shocking Mohawk hair. To summarize, he is way too powerful as an idol, but too lovely as a musician.
G-Dragon became a member of 'Little Rula' when he was 5 years old (his mom made him so), and grew to be a grade 6 rapper in 2001, with hip hop-style baggy pants and tilted baseball cap. He was noticed by Yang Hyunsuk of Seotaji and the Boys, and became a trainee of YG Entertainment. For the next 6 years, he trained and sang thousands of times, and learned how to dance with repetitive falling. His goal was clear: to be singers like 'JinuSean'. By finishing through the last step, 'Big Bang Real Documentary' in 2006, G-Dragon was able to complete the puzzle of 'Big Bang' with Tae Yang, TOP, Daesung and Seungri. In August of 2006, Big Bang successfully debuted, and not even after 3 years, they are the most famous idol star in Korea. G-Dragon is known as the 'genius idol' among the fans, as the style icon, and the master of lyric-making and composition. In one of the cable TV program, he was ranked first as 'the celebrity one wants to possess'. How did G-Dragon's charisma develop?
His stylist, hair designer, manger, photographer, choreographer all say that he's a born-celebrity, but he also had the time of a flower bud before being a full-blown flower.
How did a five-year old boy, Kwon Ji-Yong become the best idol-star G-Dragon. Style& reveals it now.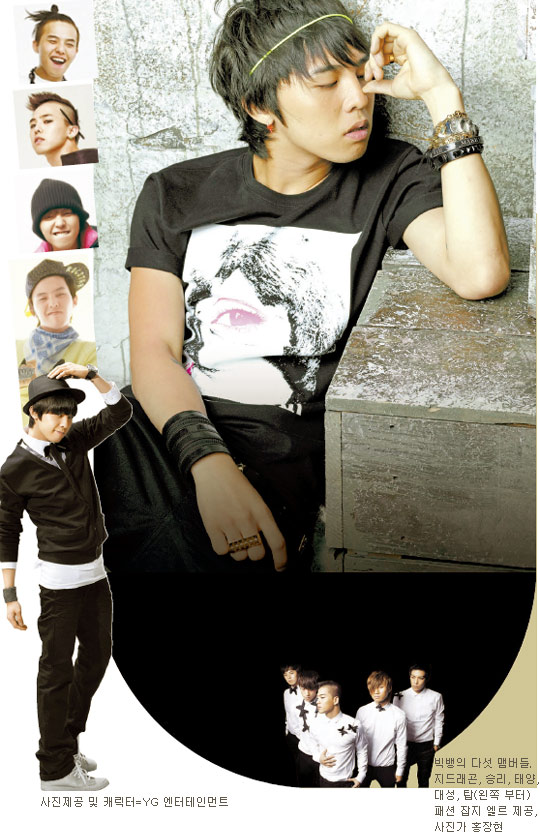 "In the beginning, he frequently went to Dong-Dae-Moon and Yi-Tae-Won"
- Stylist, Jieun (29)
Entered YG in 2000, was in charge of styling 1tym, Lexy and more, and was in charge of Big Bang since 2006 of documentary production.
"When I was placed with Big Bang, the company wanted each member to be recognized even when saw from far away. Similar images between members were prohibited. Based on hiphop style, the overall concept was formal manliness collaborated with casual idol-image, and being unique'
The another thing the company wanted was that the differences between 'everyday-look' and 'stage-look' should be as minimized as possible. Because if the gap between is too large, people do not think them as 'stylish'.
Because they pay attention on fashion in everyday lives, all the members are rated as fashionista. Especially, Ji-Yong and TaeYang learned a lot from JinuSean and 1Tym while being trainees at YG for 6 years. In the beginning, they could not ask where JinuSean and 1Tym got their clothings and accessories; so they went to Dong-Dae-Moon and Yi-Tae-Won themselves to find them out. Little things like this became essential studies. Even now, Ji-Yong calls me when buying his own clothing to ask whether they are still in season. Some fans think Ji-Yong was born with all the talents. However, Ji-Yong in my mind, is 'a genius who tries really hard', whether it be music or fashion. He has broad spectrum of interests, and is always full of curiosity. Even when he is really busy, he is never behind in collecting information on fashion and music over internet. Maybe that's why he never gains weight (smiles).
When styling Big Bang, I never let them wear something you can get easily in Korea. Before their new performances take place, I usually buy something unique from abroad. However, if all the wardrobe collection is 10, only 2 of them are store-bought, and the rest 8 are custom-designed by the styling team. 4 stylists, including me, buy everything from the fabric to accessories, and design.
There are members who look better with more stuffs added on, and there are members who look better with less. Ji-Yong is a case where layered styles glow. He is also the one who says 'no' seldomly with suggested style. If there is a clear concept, he can pull off unique shorts, red pants to green suit. Because of his versatility, usually the 'insane items' go to him. Physically, he is lean and skinny, and not tall. However, because his shoulders are broad, and arms and legs are long, he is able to pull off just about anything. He also has lean bone structure, so he can also wear female clothing.
Ji-Yong was born with a fabulous skin. Make up artists are in awe when they see his skin. He has nice surface, and little pores; he does not need to do too much aesthetics. Thankfully, he has been using the lotion I recommended since from his debut.
Sometimes people ask me, 'how did Ji-Yong become the style-icon he is in today?'. There are people who just wear the given clothes, and there are people who understand the concept of the clothes and make them their own. Ji-Yong is the latter one. He understands the clothings perfectly, and comes out with the appropriate faces and motions himself. Versatile expression and gestures, those are the essential qualities which made him the style icon of today."
Was Gu Hye-Seon and Se7en's manager before, and became Big Bang's manager since 2007. Since three months ago, became Ji-Yong's personal manager.
"I have a personal memory with Ji-Yong. Not too long ago, I was going to resign due to personal reasons. I told the company about it, and it was accepted. Ji-Yong was in Japan for work, and called me as soon as he was back in Korea. He said, 'You can't do this to me, you can't never quit'. Without hearing my reasons, he just hung up. I was startled at first, but it got to me that this is his way of showing his affection. Hence, I 'could never quit' and am still working (smile).
People say that he's 'cold'. It is something he created himself, because he constantly realizes himself as a team's leader and recognizes the responsibilities. For example, when Big Bang has a stage performance, there are the 5 members, 4 stylists and a manger team moving at the same time. At this time, Ji-Yong is at the center of decision making. So, he has to work strong and think sharp. However, in everyday life, he smiles a lot, plays a lot, likes to eat yummy food and has a huge interest in fashion, just like his peers in 20s."
In YG in 1990s, and was in a dance team for JinuSean, 1Tym and Se7en. Became choreographer since 2005.
"Ji-Yong was a born dancer. He could feel the beat, had a sense of style, learned fast, and knew how to apply the learned skills. Before Big Bang's debut, when i first met the members, I thought his dance ability was the best. Although the first is Tae Yang (since Ji-Yong has lyric making and composition to take care of as well), he still collaborates ideas the most for dances. The choreography for 'Sunset Glow' and 'Last Farewell' were filled with ideas of Ji-Yong. Ji-Yong and Tae Yang danced the most fierce; whenever they are in tighter clothing, they split their pants the most.
Before debut, they used to practice over 14 hours a day. As seen in the documentary, when the choreography is complete, it's Ji-Yong's turn to fine-tune it with the members. Even now, to determine the entries and so on, Ji-Yong decides with the members."
Was Ji-Yong's hair designer since his trainee days.
"During the performing days, he frequents the salon almost every day. Even when the members change their hair styles often, they get treatment every other week; so their hair stays healthy. Ji-Yong has the best skin complexion just like a baby. He rarely puts up makeup, unless he is on the TV.
The styles of five members cannot be the same, one cannot outshine the others, the hair colours must go well together… The more the members be fashion icons, the more I need to pay attention and study.
When a title song is decided, the stylist decides an overall concept for styling, and I create the hair styles for each member. Ji-Yong likes to change himself often.
The 'duck' hair style (the one he did during Lie performances) was created with partial extensions on his bangs. His hair was too short to tie up, but he really wanted it. The Mohawk-inspired hair was decided because the clothing were too normal. Even back in 2001 (when Ji-Yong first came to him for hair styling), he wanted to be different from everybody.
Ji-Yong becomes lovely with bang hairs. When he puts on the Mohawk-inspired style, his expressions also gets stronger. It has been almost 10 years since we've known each other (Kim calls the members as 'babies'). However, every time he is in front of the camera, he shocks me. He knows how to show off both the clothing and hair style, and portrays it with his face and body expression. How can you not like someone like this.
He is warm-hearted, and know how to treat people nicely. He's someone who moves the side dish trays I cannot reach while eating."
"Can change expression depending on the clothing in a split second"
- Photographer, Lee Jung Woon (29)
Came to YG in 2004, was Se7en's photographer. Recently worked with Big Bang with various projects.
"It was in 2004 when I first shoot Ji-Yong. He looked like a little smart off any street; he brought little props for the photoshoot. I thought he was overdoing it, but the result was spectacular.
Ji-Yong has good front face. Strong looks, various expressions can be obtained by photographing from the front; and I usually do. Since the first encounter, I could feel his strength and pride through the camera lens. That look still stayed till now, although the feel of it changed.
Before, he used to pose with things others put on him. Now, regardless of what he is wearing, he knows how to express himself freely. For example, if he was waiting for a black suit and a colorful suit arrives instead, he doesn't lose his cool. He just changes his shoes that match ith the suit, and changes the hairstyle according to the suit. The wit cannot be represented without pride and strength. His pros and cons is that he has a lot of desire (to be better) and has too much fire and passion. Sometimes, when the photoshoot is finished, he wants me to take photos with his own ideas. Sometimes, i want to control him as a photographer (smiles)."
Ji-Yong's Works
G-Dragon was recognized as a successful producer with hit songs such as 'Lie' and 'Last Farewell'. 'Lie', especially, was originally his solo song, but it was chosen as the title song in Big Bang's first mini album 'Always'. He has been a part for lyric making and composition for almost all the songs Big Bang released. According to Korea Music Copyright Associatoin, there are 52 songs in total (including remix songs) that bear his name. The following are the main songs G-Dragon produced for Big Bang.
- This Love (2006): composed by G-Dragon, arranged by G-Dragon (sampled Maroon5's This Love)
- Shake it (2006): composed by G-Dragon & Brave Brothers, lyric making by G-Dragon, arranged by Brave Brothers
- Lie (2007): composed by G-Dragon, lyric making by G-Dragon, arranged by Brave Brothers
- Last Farewell (2007): composed by G-Dragon & Brave Brothers, lyric making by G-Dragon, arranged by Brave Brothers
- Haru Haru (2008): composed by G-Dragon & Daishi Dance, lyric making by G-Dragon, arranged by Daishi Dance
- Look at me Gwisoon (2008): Dae Sung's solo song. composed by G-Dragon & Kush, lyric making by G-Dragon, arranged by Kim Jung Mook
- Big Hit (2009): Dae Sung's solo song. composed by G-Dragon, lyric making by G-Dragon, arranged by Kim Jung Mook
송지혜 기자

translated by 코코마탑횽 @ bbvipz
tiptop.mireene.com

Post taken from: 코코마탑횽@VIPz Overseas